On 9th March Vredesactie and its partners booked a major legal victory. On demand of the Ligue des Droits Humains, CNAPD and Vredesactie, with support of Amnesty International, the Belgian administrative court suspended a series of new arms export licences with end destination Saudi Arabia granted by the Walloon regional government in December 2019. The exact value of these licences is not known. However, now that the Belgian export statistics over 2019 are complete and all the regional arms export reports over 2018 are published, it is possible to better estimate the impact of this judgment. This proves to be major: the trade flow blocked by this judgment represented in 2017 and 2018 50% of the Belgian arms export and over 2019 possibly even 75%.
The Walloon annual report on arms trade in 2018 shows that the Walloon region exported about 1 billion euro of defense-related goods. The exact value of actual exported goods is 949.922.079 euro in 2018, a rise from 702.066.538 euro in 2017 and 408.235.982 euro in 2016. Between 2008 and 2015 the value of actual arms exports ranged between 250 million and 410 million euro.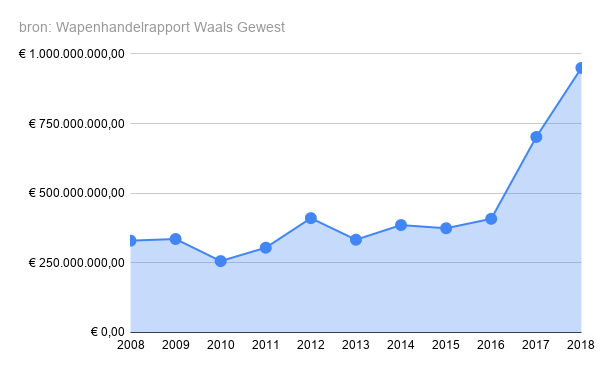 This doubling of the Walloon arms exports can be attributed almost completely to the major contract of CMI Defence (now called John Cockerill) with Saudi Arabia. The largest part of this export is indirect and first goes to Canada. CMI Defence makes turrets, which are mounted on armoured cars by General Dynamics Land Systems in Canada. Subsequently these armoured cars are exported to Saudi Arabia. This contract, which would have a total value of 4.5 billion euro over several years, seems to have accounted for a third of the Walloon arms export in 2017 and its share will probably have risen to more than 50% in 2019. From the export statistics we can derive that about 50% of this contract has been carried out. This implies that the judgment potentially cancels more than 2 billion euro of arms exports related to this contract. Potentially, as this judgment is a provisory suspension until the final judgment is delivered. Further it is also unknown if the suspended licences accounted for the whole of the work left for this contract. However, if the administrative court sticks to its legal reasoning, the consequence is that all work on this contract is blocked.
The other licences concerned small and light weapons and munition from FN and Mecar. The last years such export to Saudi Arabia amounted to 180 to 190 million euro/year. All licences were valid for 18 months.